What Does "Glamping" Mean?
The portmanteau "glamping" has become a category of vacationing in and of itself, since it first appeared in The Guardian in 2005. Many a potential travelers's Pinterest boards are littered with the glamping trifecta: luxury tents, luxury yurts, and luxury cabins. Exotic locales from the Maldives of Southern Asia to the Alps mountain range of Switzerland and Austria offer uniquely elegant and deceptively rustic travel experiences to the tourists that flock to their scenery. "Glamorous camping" may once have meant an outhouse with running water or a tent with space for a cot, but now, vacationers by the millions are seeking memory foam mattresses, spa experiences, 5-star food, and unique offerings that could set apart their Instagrams from all the rest of the influencer noise.
In Wine Country, California, the glampers have a variety of options, places where the weary taster can rest his or her head that isn't your usual, run-of-the-mill, boutique hotel. From the Wildhaven tents in Sonoma to Autocamp's Airstreams in Guerneville, the average wine taster can certainly choose their own adventure when it comes to how they're resting their head. Here at Sonoma Zipline Adventures, we have our own unique offering, a glamping experience unlike any that came before.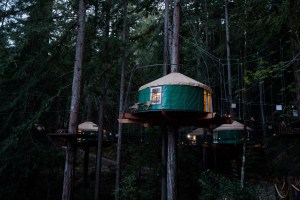 The treehouses of Sonoma Treehouse Adventures sit perched on a system of suspension bridges amidst the Redwoods. Each luxury treehouse comes with queen-sized bed, a bunk bed, and a composting toilet. The Sonoma Treehouse glamping experience is an all-inclusive one, with guests treated to both the zipline courses of Sonoma Zipline Adventures, as well as a gourmet dinner and breakfast served at their treehouse door. A host attends to the needs of every treehouse guest all night long, and the flexible Redwood trees sway their residents to sleep in the luxurious eddies of a coastal wind.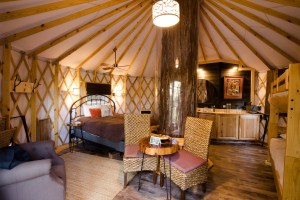 Glamping has come to mean many things to a modern traveller, looking to go outside their comfort zones, seeking something beyond the hotel room of the past. Not many glamping experiences have the same capacity to form the unique and life-changing memories promised by a day and night in these treehouses. So next time you think about a glamorous camping experience, think about a treehouse stay in the Redwoods of Sonoma County.