The wine country is well known for its world-famous vineyards, but it also offers much in terms of outdoor adventure opportunities. While the outdoor adventure industry has been shut down for over a year, thanks to rising vaccination rates, it's slowly starting to open up. For those aching to get finally get out of their house and explore the wild beauty of Sonoma and Napa county, that is good news.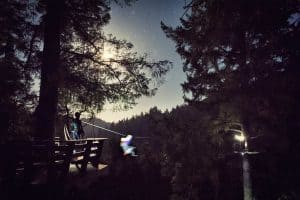 The Outdoor Industry in Wine Country
The pandemic is finally winding down and the world is starting to open up. State and local governments across California are preparing to lighten restrictions, giving new life to an industry that for much of the past year has been on hold.  Although much of the pristine beauty of wine country is found in stately rows of vines on a hillside, the area has a more rugged beauty to offer as well. For those looking to experience a different type of outdoor adventure, there are a wide array of options.
Five Outdoor Adventures in Wine Country
Below are five different outdoor adventures that offer exciting experiences and perspectives of the beautiful place we call home. These outdoor adventures are all located in Sonoma or Napa county just a short drive from the vineyards that give wine country its name.
1: Kayaking in Tomales Bay
The western portion of wine country is crossed and marked by hundreds of rivers, reservoirs, and waterways, not to mention the mighty Pacific coast. This makes kayaking a popular outdoor adventure activity in the area, and there's not a better way to kayak the western coast than with Blue Waters Kayaking. In particular, their nighttime bio-luminescent tour provides a powerful outdoor experience as you kayak in the blue-lit stillness of the bay amidst the darkening shades of twilight. 
However currently their night-tours are sold out far into the future, so if guests are looking to make a reservation, it will have to be well in advance. Thankfully Blue Waters Kayaking offers many other packages and options that allow adventures to explore the coastal ecosystems. The day tours are packed with rare wildlife sightings including bat rays, leopard sharks,  river otters, numerous birds, and even seals. Although the bio-luminescent tours are spectacular, the day tours are a great option for those looking for more wild animal sightings.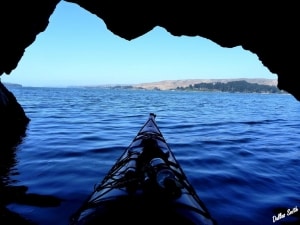 If you're interested in a more comprehensive experience they also offer a camping-kayaking experience with their Tomales Bay Camping Tour. For more information about specific tours click on this link or call this number: 415-669-2600.
2: Spend a Night on a Safari Reserve
If watching animals is your outdoor adventure of choice, but you're not much of a kayaker then Safari West has you covered. Located only 15 minutes from the heart of Santa Rosa, Safari West is a 400-acre reserve that houses nearly a thousand animals.
Safari West offers many different experiences and packages. For those searching for a more casual experience, the walking tour is a great intro to the safari world. The next step up from that is a guided safari trip by jeep or bus. You'll encounter wildlife roaming wild and free as you drive on a protected jeep through the oak savannas populated by zebras, giraffes, water buffalo, and more. If you are looking for an even more immersive experience Safari West actually offers an overnight package where visitors can stay in a luxury tent right in the middle of the safari.
For more information about Safari West click on this link or call this number: 800-616-2695.
3: Zip-line Through the Coastal Redwoods
Grapevines may be the plant that comes to mind when you think of wine country, but for millennia the northern coast of California was shaped by the magnificent Coastal Redwood forests Although much of it was logged in the 19th and 20th century, large areas of the coast remains protected, or have grown back from the logging.
Hiking of course is a great option for exploring the Sequoia sempervirens, but for thrill-seekers, why walk when you can fly? Sonoma Zipline Adventures is nestled off the coast of Northern California deep in the Redwood forest. SZA provides an outdoor adventure completely unlike anything you've ever experienced. With two unique courses, each a two-and-a-half-hour guided eco-tour that includes multiple zip lines, sky bridges, a majestic spiral staircase, a rappel to the forest floor, you will be fully immersed in the unparalleled beauty of the world-famous California Coastal Redwoods.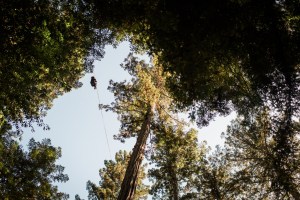 And if you're looking to fully experience the majesty, Sonoma Zipline Adventures also offers a treehouse experience that includes both courses, a gourmet dinner, and a guided naturalist hike. To book your experience or to find out more, click on this link or call this number: 1-888-494-7868.
4: Hot Air Balloons Over the Vineyards
If flying through the air sounds like the outdoor adventure for you, but you'd like something a bit more laid-back than zip-lining, a hot-air balloon escapade may be perfect for you! Sonoma Ballooning offers several different packages that allow you to explore the wine country from a whole new perspective.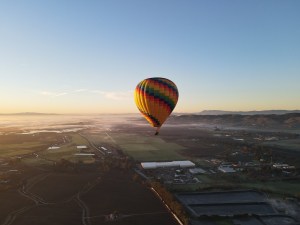 Their recommended experience is the Balloon, Charlie's Acres & Vegan Wine Tour. This option includes transportation, complimentary beverages, a balloon flight over wine-country, a post-flight champagne toast, a trip to Charlie's Acres Farm Animal Sanctuary for a visit with their rescue animals, and finally wine tasting at local vegan wineries where one of those stops includes lunch!
The average flight lasts 45 minutes to an hour and each balloon can fit up to four people (although they can make special exceptions). Sonoma Ballooning accepts both walk-up appointments and reservations. To learn more about their offerings click here, or call this number: 707-819-9223.
5: Skydive Thousands of Feet Above Wine Country
If the air is your environment of choice, but you're looking for something a little more adrenaline-inducing than a leisurely hot-air balloon, sky-diving may be just the option for you. At Sky Dive Golden Gate you can tandem-dive thousands of feet reaching speeds of over 120 mph while you enjoy breathtaking views of the San Francisco skyline, and the pristine Sonoma and Napa county landscape 
Although located out of the Bay Area, the views from thousands of feet up encompass much of the northern California area including broad swaths of Wine Country. For those looking to record their trip in full color for perpetuity, Sky Dive Golden Gate offers go-pro and picture packages so every scream, grimace, and grin is captured for your viewing pleasure. To book your experience or find out more click here or call this number: 415-770-4011.
About Sonoma Zip-line Adventures
Here at Sonoma Zipline Adventures, we believe in cultivating a lifestyle of adventure in Northern California. We have welcomed guests into the Redwoods for almost eighty years now for camps, retreats, and outdoor education. Just a decade ago we opened our first zip-line course to welcome even more people into our magnificent Coastal Redwood forest. Located just twenty minutes from the coast, and only a short drive from the heart of wine country, we can help facilitate retreats, birthday parties, anniversaries, and more. To learn more about what we do give us a call, or click here.
https://www.sonomacanopytours.com/wp-content/uploads/2018/06/night-3-e1623114657876.jpg
1576
1891
Josiah Finley
https://www.sonomacanopytours.com/wp-content/uploads/2021/01/Sonoma_Zipline_Adventures_Black_Logo.png
Josiah Finley
2021-06-10 02:57:10
2021-06-11 03:20:40
Five Outdoor Adventures in Wine Country!